The Pinellas County Craft Draft Championship
Uncategorized
November 3, 2012
by Robert Carroll
If you are a beer enthusiast, going out to bars can be almost depressing sometimes. Everywhere you go you see the same beers with the same alcohol per volume or ABV. A lack of variety and ABV seems to be a plague in bars everywhere. Bars may have all sorts of interesting and different cocktails, but when it comes to draft beers you get the same five or six taps everywhere you go.
I set out to find the top three spots to wet your whistle with craft beer in Pinellas County.
These are not your usual cookie cutter bars or beers.
Only three bars could make the list.
Only one could be named the craft draft champion of Pinellas County.
The Top Three
Locations: 207001 US Highway 19 N, Clearwater FL 33761; 3800 Park Blvd, Pinellas Park, FL 33781
Hours: 11 A.M.- 12 P.M. Sunday Thru Thursday and 11 A.M.- 1 A.M. Friday and Saturday
All ages welcome
Selection:
BJ's offers seventeen craft beers on tap, including all varieties from light lager to dark stout. If you are looking for a light beer, BJ's has three light crafts on tap. BJ's Lightswitch lager: (3.5% alcohol per volume or ABV) is a good choice. At 3.5% ABV it's about the strength of most corporate light beers, light but still rich with a smooth, hoppy after taste. They offer a couple of IPA's, traditional ales, a porter, a stout, and a seasonal tap. If you like dark beer, the Tatonka stout (8.5 ABV) is a must-try;  according to the menu at BJ's it was once the private beverage of Russian Czars. This is a dark, bitter, and thick stout, and at 8.5% ABV it packs a nice punch.
Price:
Their pints run between five a six dollars.
They offer pitchers for around seventeen dollars.
They also offer taster sets for those that want to try all the beers: a four 6oz. beer taster set for $6.95, a eight 5 oz. taster set for 12.96, or a single 5 oz. taster for $1.95
Environment:
BJ's Brewhouse is a restaurant with a full-service bar. The restaurant is very open and spacious, but is always full of patrons. BJ's a popular place, so if you are planning on eating dinner with your beer, call ahead.
There is not a lot of bar seating, which can make it hard to find a seat. BJ's is a good choice if you are looking for good food and good beer. This is not a place to go with your buddies to watch the game and knock a few back.
Their food menu is impressive and has something for everyone.
The Good:
The beer is good and the selection is excellent for a restaurant, making it one of the few places you can get a craft beer and a meal. The food is just as good as the beer. BJ's is a good place to go for dinner with friends or take a date, and the taster sets are good for those that what to try everything.
The Bad:
This place is always packed, so this is not a place for the spur-of-the-moment bar trip. Not a lot of bar seating. While seventeen taps is good for restaurant, there's no comparison to a craft beer bar.
Location: 111 2nd Ave NE Saint Petersburg Florida
Hours: 3 P.M. to Midnight seven days a week
All ages welcome
Selection:
The Ale and the Witch offers thirty-two American craft beers on tap, no imports. Brett Andress, the owner, says he strives to keep something on tap for every taste palate. He also mentioned that he tries to only keep one or two of a certain type of beer around at once. Andress only buys one keg of a certain type of beer at a time, which means the bar's selection is changing constantly. Once a keg is killed it gets replaced with a new beer, meaning you will get something new and fresh on each visit.
They offer some light snack food such as pretzels and chips and a few types of wine for those that won't drink beer.
Price: 5.50 to 7.50,  per pint
Environment:
The atmosphere at Ale and the Witch is just as unique and enticing as the beers they offer. The Ale and the Witch is located in a courtyard and offers outside and inside seating. There are couches and a table next to a shelf full of board and local art for sale displayed on the walls. At the end of bar is a small TV which no one watches. They have live music every night from bands that span all genres.
The Good:
The Ale and the Witch offers a unique atmosphere, live music every night, and a great selection of beer with fresh and new selections daily. Outside courtyard seating is a big plus. FREE samples and knowledgeable staff will help you find the right beer. They also support local breweries, artists and musicians.
The Bad:
Don't go here to watch the game with your friends. They have almost no 'munchie' foods available.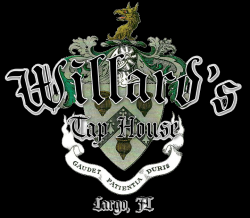 Location: 12500 Starkey Road, Largo, FL 33773
Hours: Sunday Thru Thursday: 4 P.M. to 1 A.M. Friday and Saturday 2 P.M. to 3 A.M.
All ages welcome
Selection: 
Willard's is craft beer tap house, with forty crafts on draft, a few kinds of wine, and draft root beer. They have chips and dip, hummus, almonds, and fish spread for those that want to snack while drinking. They offer every kind of beer imaginable and display the current selection on a chalkboard, which sports ten local beers and another ten dedicated to seasonal beers. Taps are changed periodically and their current tap list can be found on their website.
Price:
Their beers range from five to seven dollars apiece. Most beers are by the pint, though the beers with higher alcohol per volume or ABV are sold in glasses a few ounces smaller. The smaller make up for their size in ABV, with most weighing in at 9% to 12%, two to three times the alcohol you get from your corner store in the same size.
Environment:
Willard's is a small place with a pub feel. They play a lot of punk and ska music, but it's not blaring and is more background noise. They have two TV's, making it a good place to go, watch a game, and drink some good beer. Willard's has no shortage of beer or character. The back of their bartender's shirts proclaim, "no crap on tap." They also have a poster by the bar that says "fizzy yellow beer is for wussies." They have live music and events; their event list can be found on their website.
The Good:
Willard's has an awesome selection of beer, good environment, and very helpful bartenders. If you don't know what to get the barkeep will give a suggestion and FREE samples.
You can add ice cream to stouts and root beer for a dollar.
The Bad:
Willard's is a small bar, a little more seating would be good.
And the winner is…
The winner of the crown for best craft draft bar in Pinellas County, by unanimous decision of the judge, is The Ale and the Witch.
The Ale and the Witch offers a totally unique atmosphere that you won't find anywhere else. They have new taps every day, so you will never get bored of the selection. Their 'coffee shop' makes it a great place to go and drink some beers. Even if you go alone you will always find someone to talk to. The barkeeps are very friendly and helpful. If you are bored with bars and they all seem to blur together, The Ale and Witch is the place for you.
The Ale and the Witch is a beer lover's heaven and it is right here in our own backyard. Wanting a good beer will bring you to The Ale and the Witch; the selection, rotation, and atmosphere will bring you back.
Beer mug photo by M. Grunwald, used under a Creative Commons 2.0 license.